Moped of the day is Brett's ( instagram.com/eppdesign/ ) Batavus Grand Prix.  The Grand Prix came with one of  two engines, a Sachs 50cc or Peugeot 103 sp french 50cc engine.  These vintage mopeds are known to be rare, they were produced from 1980 to 1984.  Like many vintage mopeds they were designed for speeds of 30 mph.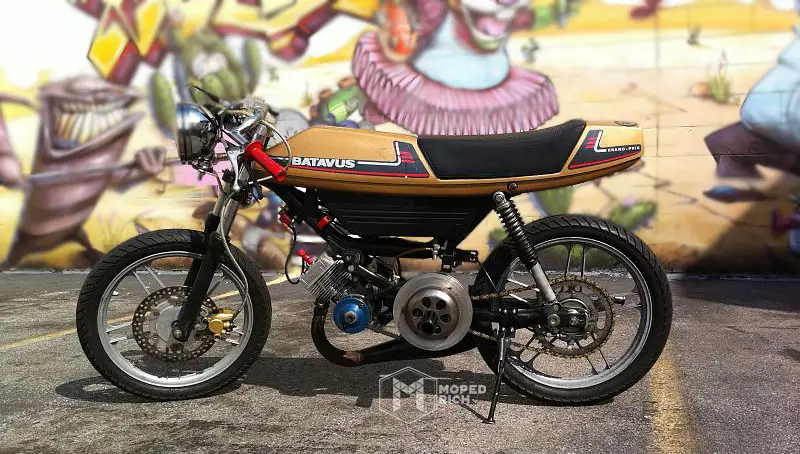 BATAVUS GRAND PRIX APPEARANCE
Brett kept the Batavus faux top tank and seat cover original with the paint and decals from the 80's.   They are in great condition and well kept.  Yamaha yz 85 forks with custom disk setup are used up front. Some clubman style handlebars and a bigger round light replace the original ones.  Front and back fenders have been removed, and the engine side covers as well.  The Batavus Grand Prix sports Grimeca 10 Razze aka 5 Star mags wrapped in Sava MC2 tires. Original seat and rear shocks. Pedals are replaced with pegs.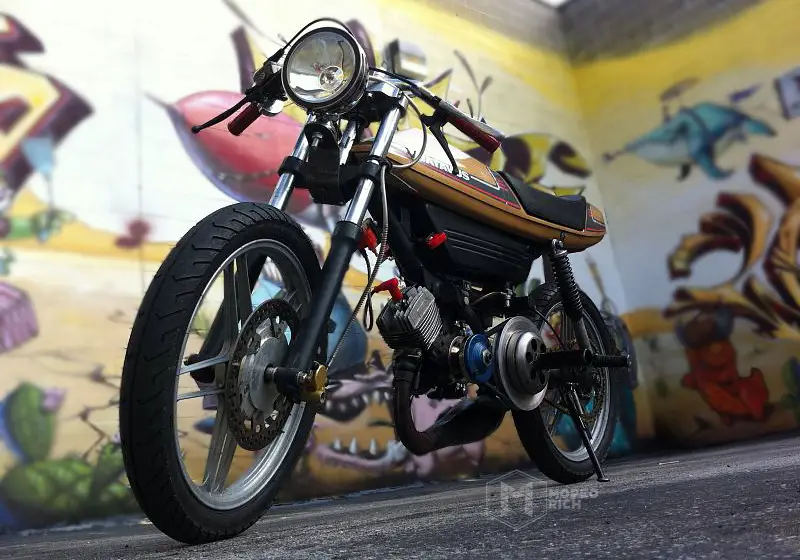 ENGINE
"I never maxed it out, but was able to reach 67mph before I decided to back off because my head temp was getting into the danger zone. Also at those speeds there is so much mechanical noise coming from the engine that its a bit scary." – Brett
Polini case | Polini reed block | Carbon fiber reeds | Dellorto 21mm carb | Polini spring |Mykitech clutch pulley | Malossi stroker crank  with spacer | Gilardoni 64cc air cooled top end | Extra porting | Case matched | Malossi high comp head, custom squish | MVT CDI | Doppler ER2 clutchless variator | Doppler Peugeot Pipe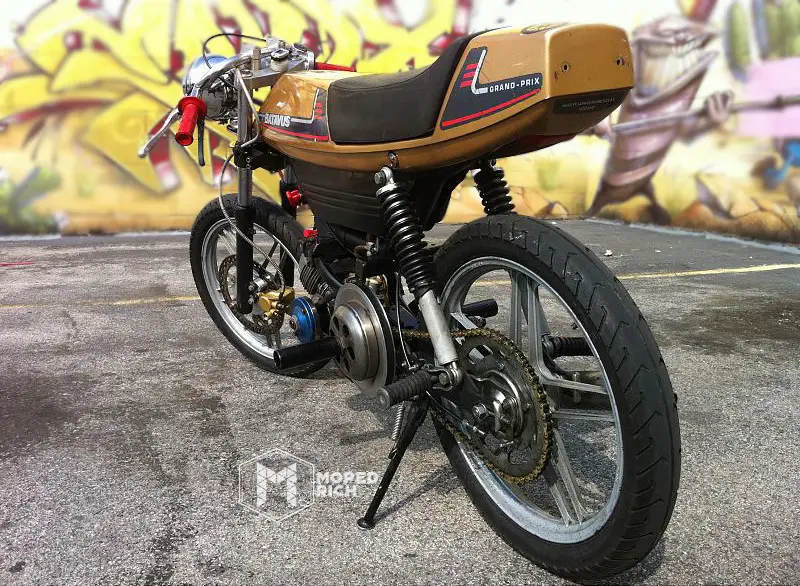 THE BREAKDOWN
Polini case
Polini reed block
Carbon fiber reeds
Dellorto 21mm carb
Polini spring
Mykitech clutch pulley
Malossi stroker crank with spacer
Gilardoni 64cc air cooled top end
Extra porting
Case matched
Malossi high comp head, custom squish
MVT CDI
Doppler ER2 clutchless variator
Doppler Peugeot Pipe
Yamaha yz 85 forks with custom disk setup
Grimeca 10 Razze aka 5 Star mags
Sava MC2 tires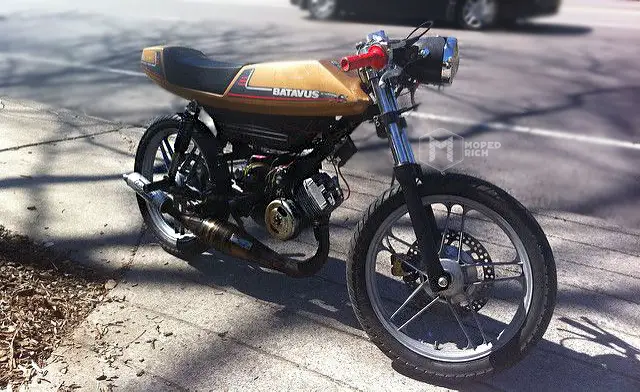 Photo credits: Brett of @eppdesign Hickory Union Moto