Today's fire Moped of the Day find is an extremely Super Bravo.  This Vespa Bravo came across my feed on FaceSpace! All photos and the Bravo belong to Tommy N.
(https://www.facebook.com/il.tommy.5?hc_ref=ARSPIN45mxcjA0sVr2Qvw0JBy79xT4S8JbU6m9T_eEu9hy8wZITtdDsqCfMLlRjzeuU)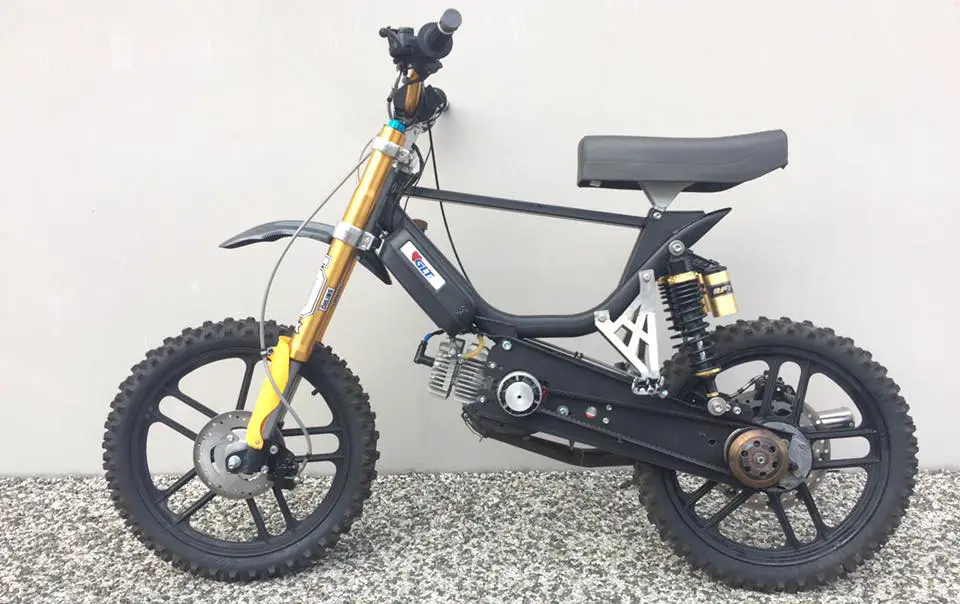 VESPA SUPER BRAVO APPEARANCE AND MODS
Tommy's Bravo has been modified from front to back with a lot of great aftermarket parts.  Lets start from the ground up and front to back. Grimeca 5 Razze Parallele wheels in knobby tires like Shinko 16 x 90/100 knobby tire – R525 | Custom disk brakes on both wheels | Inverted Forks similar to Honda CRF50  dirt bikes | Carbon fiber color dirt bike front fender | Mid rise dirt bike handlebars | Rear Air Shock Absorbers | original Super Bravo seat | original Bravo gas tank | The rear of the frame was sectioned off and, square tubing was added for reinforcement of the step through frame. Custom foot peg brackets attached to the frame instead of on the swing arm where pedals are located from the factory.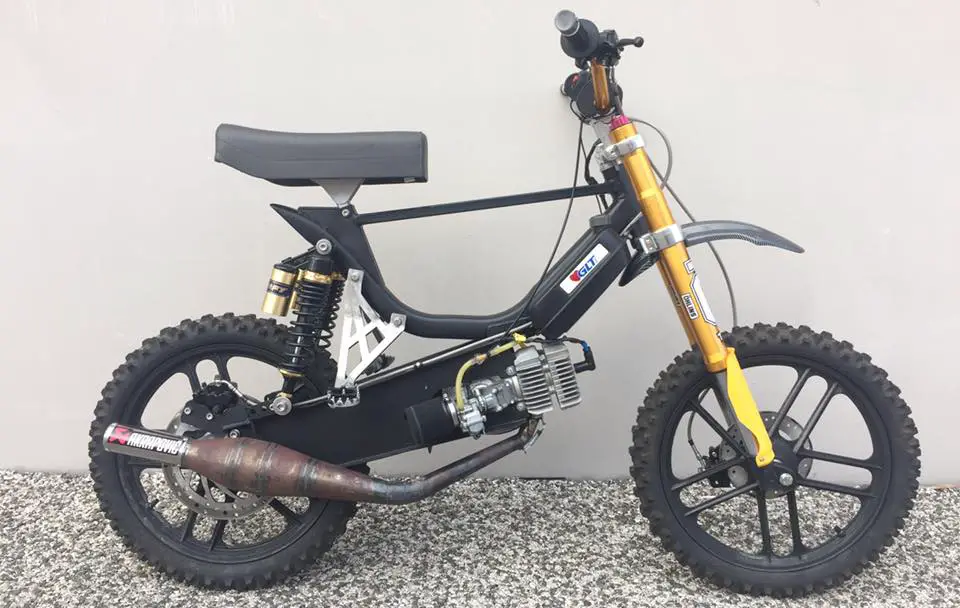 ENGINE
There are a lot of Vespa racing goodies going on here.  As a vintage Vespa moped fan myself I am in love with this setup.  Vespa made rotary case inducted engines. Tommy has swapped the original engine for a Simonini race engine. Simonini engine case | Simonini race crankshaft | 47.6mm cylinder and piston | CDI | Malossi reed block | Malossi intake | Malossi Multivar Variator | Variator pull start pully | Mikuni carburetor | Moparts Hybrid Variomatic Shaft | Minarelli scooter variomatic clutch | Custom exhaust |
All photos by Tommy Nander